We know better than most just how overwhelming Antique stores can be ...especially ones like The NAT. There's just so much to see! We understand that it can be difficult to see potential in specific items when there's so much to look at. Scoring big at a vintage store requires some preparedness, creativity, and sometimes you have to simply cross your fingers that it works! Ahead are some great vintage finds that you may (or may not) be passing up, but we're here to help!
Ignore those boring images housed inside antique frames. The image itself can easily be popped out and replaced with treasured ones you already have!
Reupholstery isn't your only option when it comes to furniture with dated fabric. There are plenty of fabric paints + dyes out there these days that can make a drab chair fab in a snap!
Whether you're planning an event table or if you simply need a great centerpiece at home, a plethora of candlesticks can be found in malls like ours. Sand down wooden ones for a weathered look or snag several different metallic ones for a little added glitz!
Depression glass is a hot ticket item around here! It's available in all different colors, shapes, and designs. Even trendy bars are serving up fancy cocktails in them as of late. Whether you plan to display your collection or simply stock your bar cart - these are a must have!
These artworks may seem a little cheesy at first glance, but mixed with the right elements they can bring a curated, fresh, and modern look to any space.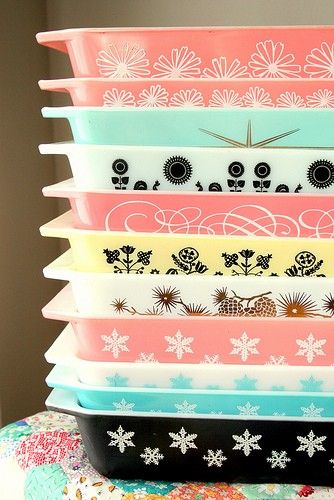 Not only is it a fun, kitschy addition to your kitchen, but it's useful! Start a collection of one style or go full on mix + match! There are a lot of pyrex collectors out there so if you decide to go a different route later on, you can typically recoup your money by reselling them.
The NAT boasts the widest selection of items like these in the Texas Panhandle. If you've been on the hunt for something specific, we'd be happy to help you out! Simply give us a call or swing by today!
(Here's a small selection of in-stock items similar to those listed above)